I was lucky enough to be asked by Loup Design handling the Grant for the Web fund for Coil to showcase Web Monetized games at the Mozilla Festival's arcade booth - we were showing both Enclave Games creations and js13kGames entries from the Web Monetization category, and tossed in a WebXR game as it's always fun to play VR games at such events.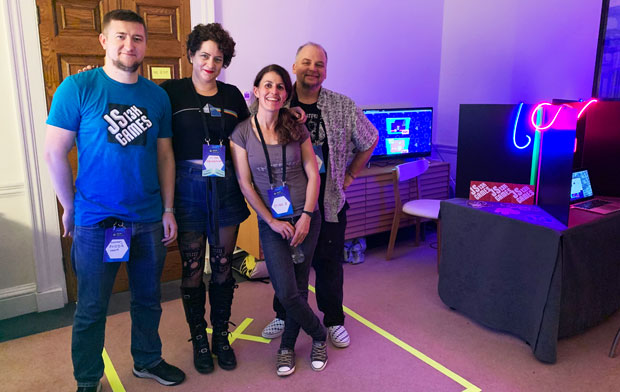 I can already tell you it was a success, and while running a booth can be exhausting, it was also really exciting and enjoyable. Especially given the incredible atmosphere of MozFest itself (which I attended in 2013 and 2015).
Wednesday
I've arrived in London on Wednesday October 23rd, had a little delay because of the fog and rain at both Warsaw and London airports, and went straight to the MozFest House to attend at least some part of the Web Monetization workshop that was held between 1 PM and 5 PM. I've participated in the last session, and had some time to chat with the Grant for the Web runners, Loup Design team (Chris Lawrence, Christine Prefontaine, and Erika Drushka), first time face to face.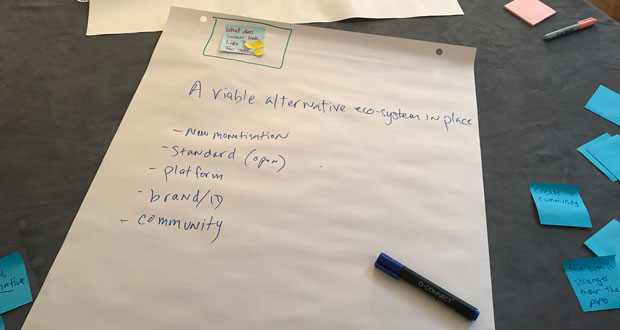 After the workshop ended I met with a good friend of mine, Andre, and decided we need some quiet place to work, so we went for my hotel (CitizenM Bankside, just next to the Mozilla London office), had quick dinner and worked from there up until the evening.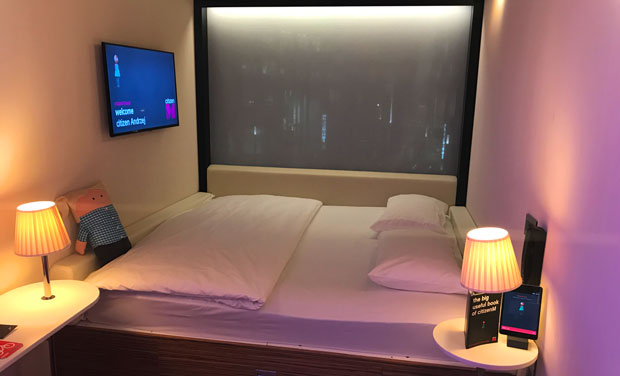 After that I went to my room, which surprised me with how unique it was compared to all the other hotels I stayed at before. It reminded me of those sci-fi Tokyo vibes from movies - small, but perfectly organized room with window taking the whole available space, bed being the width of the room, everything controlled via a tablet (blinds, lights, temperature, TV, etc), toilet and shower behind a futuristic, opaque glassy plastic, even the TV welcomed me by my first name.
I've visited a few hotels in my life already - this one is definitely one of my favourites so far.
Thursday
I spent most of the day finishing the Arcade website itself, and the Mozilla Hacks article about the event. Huge thanks goes to Havi who did a lot of last minute work to publish the blog post on time.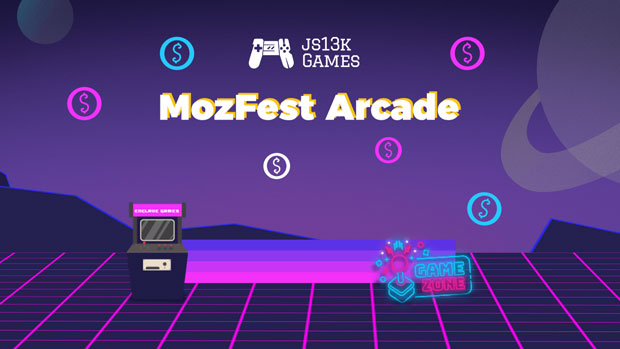 It was live minutes before Tech Speakers monthly call started where I shortly talked about what you can expect from me at MozFest, and pointed people at the website and the article.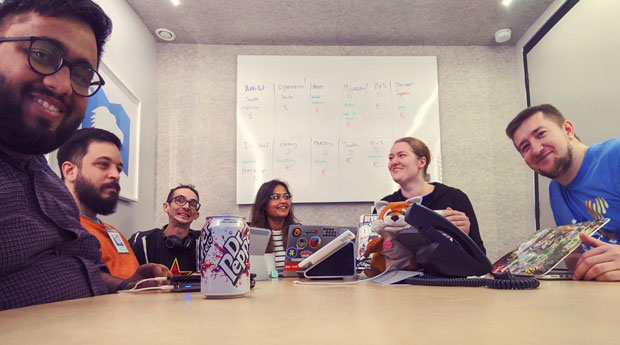 Some folks went for the Glitch party in the evening while I returned to my hotel room to do some last minute adjustments to the website and the games.
Friday
Friday's morning was all about finishing the Web Monetization implementations in four of our games that were going to be showcased in the evening: Hungry Fridge, Caveman Grru, Shape Attack, and Flood Escape.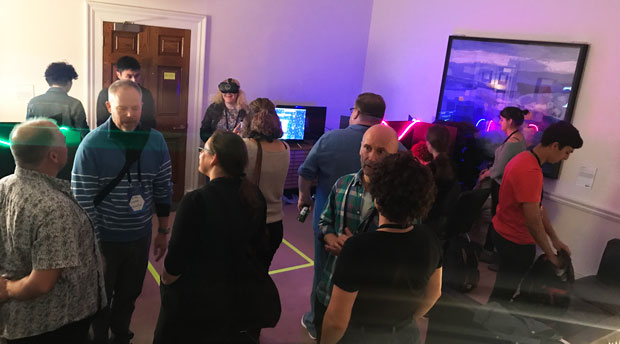 Hungry Fridge got the gamepad controls updated (as after a few years it seemed the mapping changed, even though it was the same implementation, and the exact same XBox 360 gamepad) and upgraded to work with the second, new PS4 controller.
MozFest House was hosting a science fair in the evening, where we showcased the website with all the Web Monetized games on the laptops pretending to be arcade machines, and a big square in the middle of the room taped on the floor, with Oculus Quest and the Back to Space WebXR game (because it fit perfectly to the 80's theme).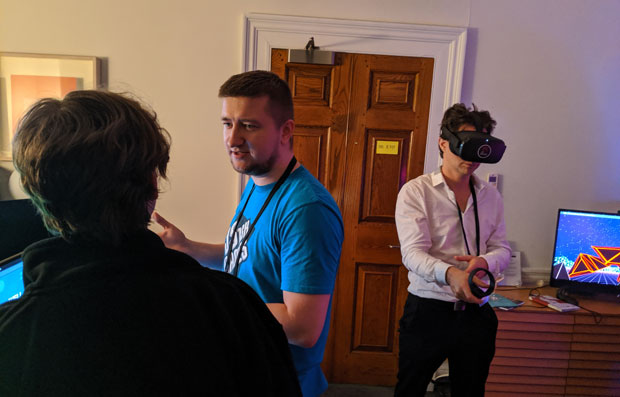 One of the laptops was mine as I couldn't make the other work with the gamepad even though it worked before in the morning when I tested it. Oh well, demo effect.
Anyway, three hours went extremely fast, and we were wrapping the evening to prepare outselves for the next day. I went with Flaki, Andre, and a bunch of friends to the nearby Five Guys - I didn't knew this place before, and it looked like a regular fast food, but they had good burgers and really great fries. After the well deserved meal I went to my hotel.
Saturday
The next day started a little bit later than I expected, because all my alarm clocks set between 6 and 7 AM, as I learned way past 8 AM, was all for weekdays while Saturday is obviously not a weekday.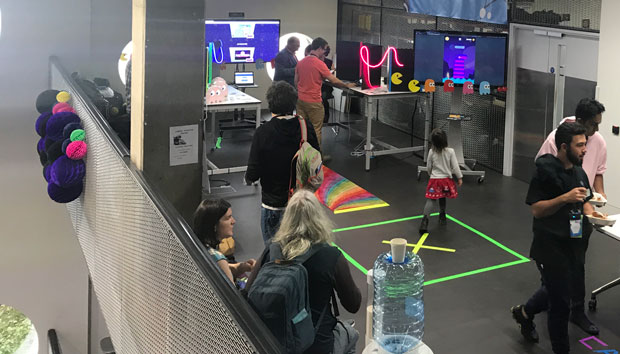 Fortunately enough I wasn't too late, I just had less time for preparations before the start, but I managed. I was fixing gamepad support "on production" while people started visiting the booth already, and managed to have it working within the first 30 minutes.
Oculus Quest running js13kGames' WebXR entry was very popular, and bringing it with me was a great idea - you could see both children and parents playing along really nicely.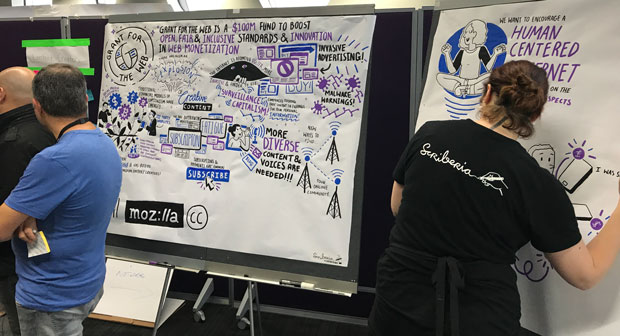 After a few hours at the booth I joined the panel discussion about Grant for the Web fund - I was talking from the creator perspective who already played with Web Monetization API and had some experience with such content from both implementing it in Enclave Games, and running the Web Monetization category in the js13kGames competition. Examples were shown at the booth.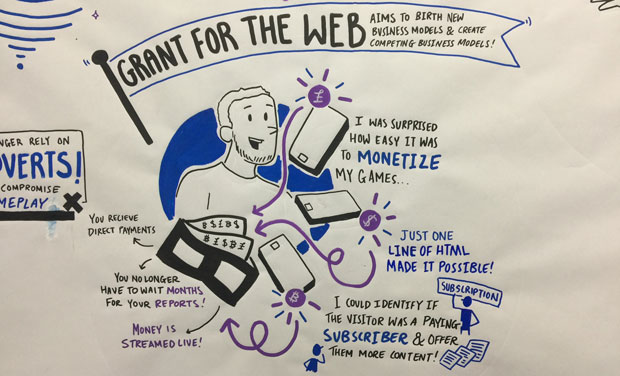 The cool thing about the panel was that a girl from Scriberia was drawing us as cartoons, and I was lucky enough to be drawn too! It's not happening too often, so I was really happy about that.
"We want to show how easy it is to use the new web monetisation API. If you're a @Coil subscriber, you can visit my website and while you're playing the game I, the developer, am paid in real time." - @end3r at #MozFest pic.twitter.com/10EFfKiE05

— Mozilla Festival (@mozillafestival) October 27, 2019
After the panel we joined back the booth and continued showing Web Monetized games up until the evening, when I went to the hotel to leave my stuff and head to the party.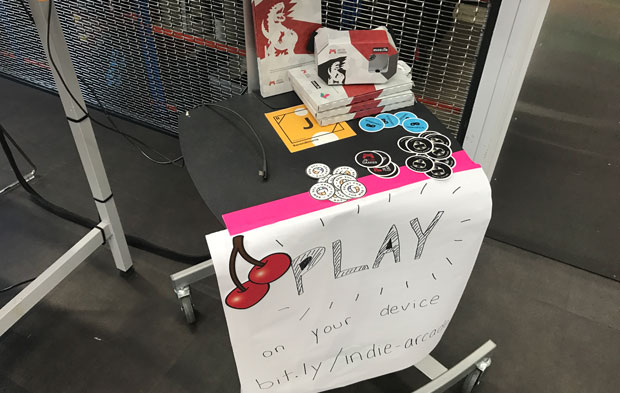 When I reached The Fable and met with Andre we realized it's not our style - it was all about loud karaoke and even on the third floor (karaoke was ground floor) we had to yell to hear each other.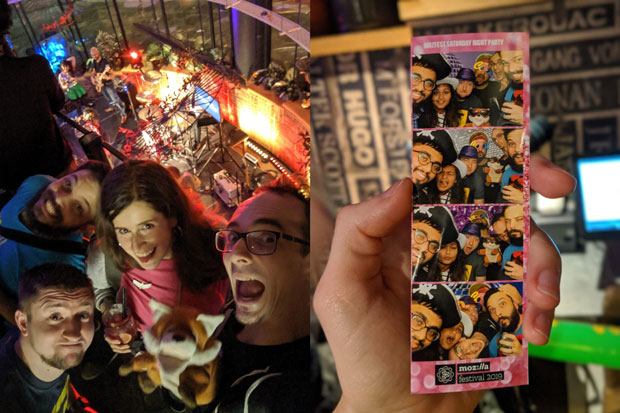 Snacks and drinks were good though, and we met with Flaki and the rest of Tech Speakers folks to have a group picture. Right after that me and Andre finished our drinks and left - after all it was a busy day, and similar was ahead of me, so it was a good idea to go to sleep.
Sunday
Sunday was all about running the booth the whole day, but fortunately enough it was less crowded than Saturday.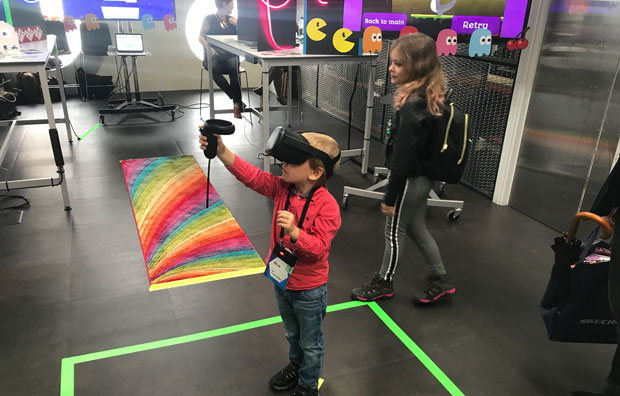 We had dinner with Andre and Flaki in a local churrascaria - it wasn't the best one you could get, but also not the worst. You could call that the preparations for visiting Sao Paulo which I had planned in the next few days.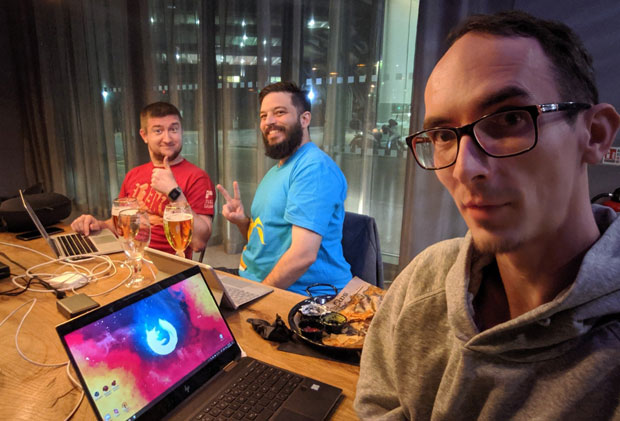 When we wrapped up the booth there was a closing party at the venue, Ravensbourne - some folks went for an unofficial one in a different loction, while I joined Andre and Flaki in Flaki's hotel where we had a short catching-up-on-emails session.
Monday
The beginning of the next week was suppose to be a travel day, but not the returning one, rather continuing to a different location. Next stop: Sao Paulo for the WebBR conference.
My flight was late in the evening though, so I had some time to visit Jean-Yves in the Mozilla office and work on my talk slides from there since the office was right next to the hotel.
Summary
As I mentioned at the very beginning, I was super happy we pulled this off - I was at MozFest two times before: having a short, 2 hour workshop session, or helping a bit with the booth, while this time it was a full-blown presence with dedicated crew and our own games being showed.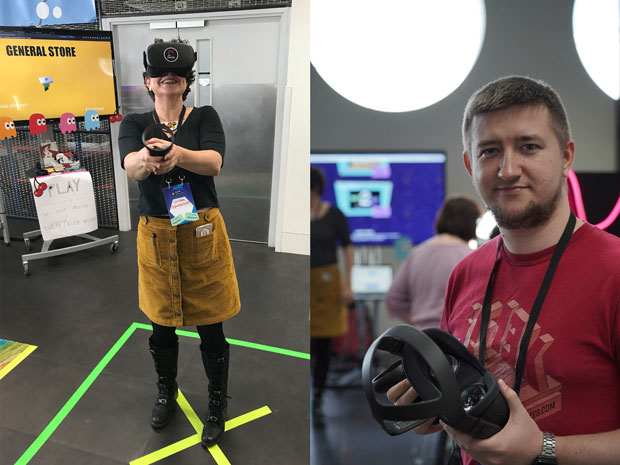 I hope to work more with Loup Design folks - I'm really excited about exploring the Web Monetization topic with all my gamedev related projects in the near future, and can't wait to see how Grant for the Web program will change Web content economy forever.