The next, fourth edition of the js13kGames competition just started - you have a whole month to create an HTML5 game in only 13 kilobytes.

I spent the last two months sending tons of emails: finding judges, organizing prizes and trying to get sponsors. It all takes time, it's hard to manage everything on my own, but I keep remembering the awesome feedback from previous years, I see the growing community of devs helping each other in how to make a game and it's awesome.
Resources
There's the resources page containing the list of useful tools that will help you build the game within the strict size limit. Feel free to add any tools you think are missing, or your post mortems from previous years. Let's build the knowledge base for all the future participants.
Theme
Ok, let's announce this year's theme. So, theme for 2015 competition is… Reversed. You can freely interpret that however you like, but remember that the judges will put more attention to implementing the theme when voting for your entry this time.
Prizes
As usual, there's a whole lot of prizes: from software licenses (WebStorm, KendoUI), accounts/services (PlayCanvas, Proto, Codepen, Blossom, JSBin, Pusher), game engines (Phaser, Isogenic, Construct 2, ImpactJS), through books (Making Money with HTML5, From Null to Full, Build an HTML5 Game), hosting plans (NodeBB), online courses (Zenva Academy) to games (Gunslugs, Gunslugs 2, Heroes of Loot, Elliot Quest, A Wizard's Lizard, Curious Expedition) and devices (Firefox OS Flame) - 23 different types of prizes worth more than 20.000 USD. Thanks to all who offered their products to build such impressive collection!
T-shirts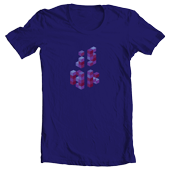 Following the tradition here's the new, 2015 t-shirt design - you can see it on the right (it's still a draft, a work in progress). Every entry will get one t-shirt for free, with free worldwide shipping.
Also, I've got a question worth 100 points: do you know an online shop with worldwide shipping where I can freely add my own t-shirt designs, which people can then buy? There was a lot of requests asking for the availability of t-shirts for both the newest ones and the others from previous years. I would really like to offer them to all interested, but haven't found the perfect service yet. Any recommendations?
Swag
Last year there was the 3,5" floppy disks, and I'm thinking about tiny pendrives this time, but I don't know yet if I'll be able to afford them. You will, for sure, get the cool stickers for your laptop.
Donations
The donations from last year helped me a lot to close the budget, so I'll continue also this time. If you want to help me keep the competition going you can do that with a donation - thank you! To keep spreading the love the 10% of the donations will go to the Charity Game Jam.
Backend
I didn't find the time to work on the website's backend, so it will stay the same as a year ago. I had a bunch of ideas to make it better, but it have to wait. It's hard to make a living as an indie gamedev, even harder if managing the compo takes a few months. I hope to have something for the next year.
Judges
The list of awesome people is impressive this year (in no particular order): Richard Davey, Christer Kaitila, Will Eastcott, Jason Weathersby, Robert Podgórski, Austin Hallock, Pablo Navarro, Ewa Mazur, Wojciech Urbański, Ilker Aydin, Pedro Fortuna and me.
Community Awards
Having an expert panel of judges is one thing, but it's also cool to see what the developers like. I'll try to have the Community Awards this year, so every participant can vote for any entry (other than his own) and we'll see how it goes. I don't have it organized yet, but I'll try to figure out the best way.
Sponsors
It wouldn't be possible without the sponsors: Spartez, Mozilla, Famobi and JScrambler. They support the competition and I'm forever grateful for that.
Go!
Come on, stop what you're doing and start making games already! You can also help me spread the word about the competition, so more people can participate - thanks!