A few days after returning from All Hands in San Francisco I gave a talk about WebVR with A-Frame at the local, Warsaw meetup.
The Fire Talk meetup (front-end edition) was organized by Sharpeo in Hub Hub Warsaw on June 21st. There were three talks scheduled for the evening - first one on the list was Grzegorz Madajczak who argued why Vue is the best framework in the world, then Michał Szklarski discussed PWA React apps in e-commerce business.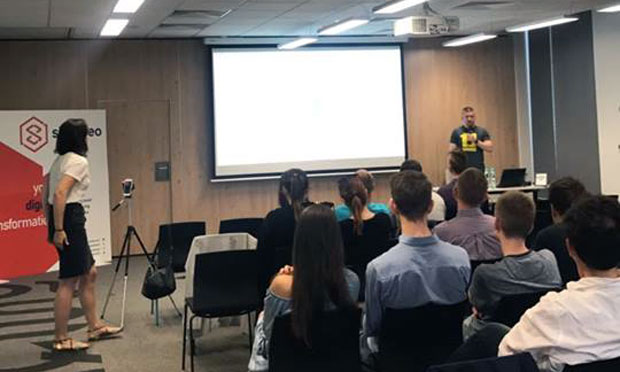 I was the last one and showed some WebVR awesomeness with the A-Frame framework. As usual, I had a few cardboards from the js13kGames competition to give away, but this time I was happy to bring the Oculus Go with me for the first time. Used it as an example of the progress hardware made over the past few years, and was ready to showcase cool demos on the device. It takes the best from both worlds - power of the wired headset, but portability of the cardboard.
I had some good discussions with people after the event, and I hope they'll try out Virtual Reality in the browser and will build nice apps and games in the future.