Third WebVR Warsaw meetup happened at the beginning of this month, on April 5th - this time we had one presentation and some lightning talks.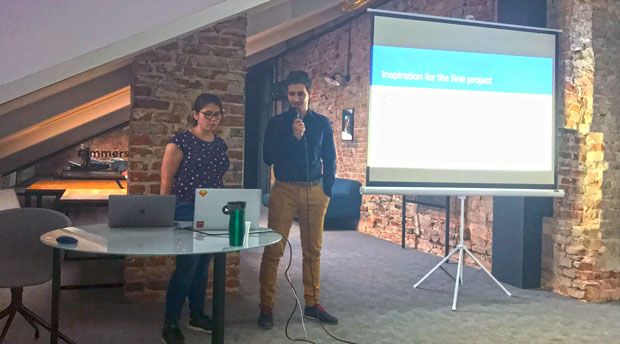 The funny thing was I did it again - went to another city to give a talk, and then returned the next day for the WebVR meetup back in Warsaw. First time it was Meet.js Katowice #30 on March 14th and WebVR Warsaw #2 on March 15th, and the second one was TechKlub Kraków on April 4th and the WebVR Warsaw #3 on April 5th (this one).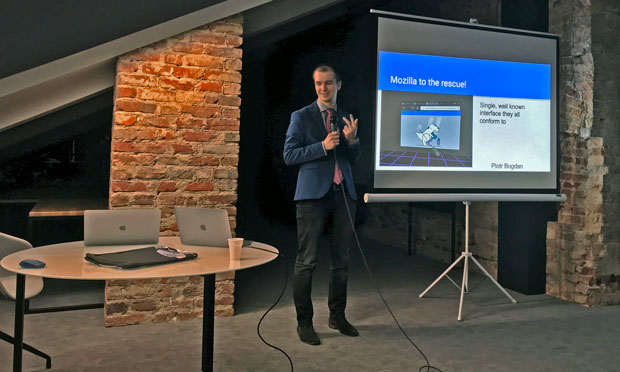 The main presentation of the evening was led by Katarzyna Kucharczyk and Krzysztof Wróbel who talked about ups and downs of building a WebVR experience with A-Frame and React. After that, we had two lightning talks: Piotr Bogdan did a quick status report on Augmented Reality and Mirosław Ciastek showed us a few "nopes" in WebVR. We traditionally concluded the evening with informal chat about all things (more or less) tech related, and had a beer (or two).
It was the last meetup out of three we have planned, and after that we hosted the workshops: A-Frame on Saturday, April 14th and React VR on Sunday, April 15th - I'll publish the blog post about those soon. The last event in the series is the upcoming WebVR Hackathon which will be held on Saturday, August 21st - the same weekend Ludum Dare is happening.