I've travelled to London last week to give a talk about WebXR at the FullStack 2019 conference that happened July 10th-12th in the Business Design Centre.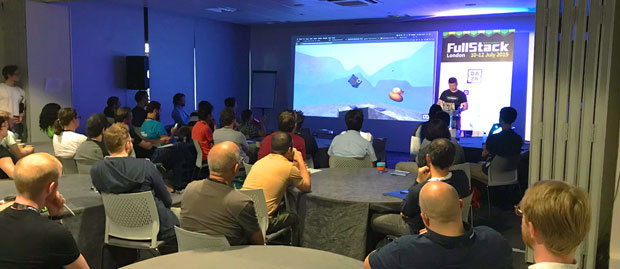 It was my first time at FullStack - all thanks to Guy Nesher, one of the Mozilla Tech Speakers, who got me in touch with the conference organizers. In one of the emails to the speakers I noticed I can share an extra ticket with anyone, so I went for Andre Garzia, a good friend of mine, who recently moved from Brazil. In the meantime, I talked with Dees after meeting him at the W3C workshop in Redmond and we agreed it would be nice to meet in London and talk about some opportunities we might both benefit from. I've arrived on Tuesday, July 9th, and headed directly to Mozilla's office.
New Mozilla's office
Last time I visited London (for longer than a layover between flights), Mozilla had its office in a different place. The new one was in Metal Box Factory workspace, but the office itself was really hard to find within the building - it seems to be an endless labyrinth full of locked doors that you need to buzz to be let in. Or maybe I just started from the furthest place possible, who knows.
The day before
Anyway, when I was finally in, I've met with Dees and we talked about his new venture which might, or might not, partner up with the js13kGames competition, and could possibly support Enclave Games too. I'm quite excited about their project, and I'll probably let you know more about it soon. Oh, and I've met their soon-to-be brand new head of DevRel who apparently is still a secret - my eyes popped out of my head when I saw him in the same room. If you've ever been at least a bit into front-end, you probably know him.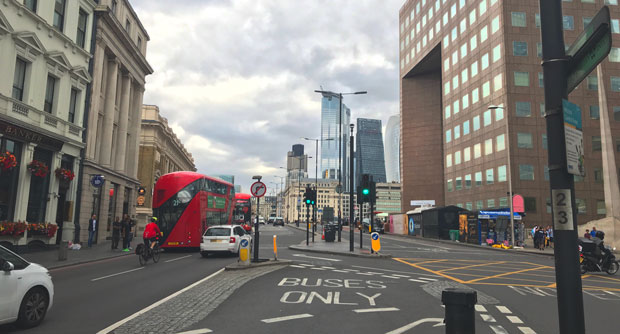 After that, I had the chance to chat with Andre Garzia and Jean-Yves Perrier, our formal host at the Mozilla's office. Then me and Andre decided we'll try going for the FullStack speaker's drinks reception (even though he wasn't a speaker), and if that fails, then we'll look for a place to eat nearby. Fortunately, The Vineyard was open to us both, so we enjoyed pizza, beers, and had a few interesting discussions with other conference speakers.
First day of the conference
The day started with me still polishing the slides, but I managed to reach the venue before noon, and had the chance to see some talks before mine took place. Trishul Goel (who is a Mozilla Tech Speaker) had an interesting take on the "PWA on steroids" concept showing a lot of cool demos using unconventional APIs like Bluetooth, Speech Recognition, and such.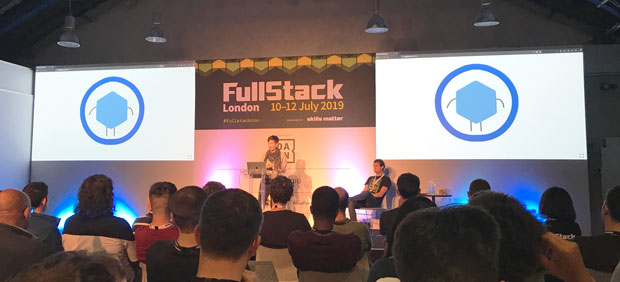 I also attended Lin Clark's keynote about WASI - WebAssembly System Interface which brings WebAssembly outside the Web.
My talk
I've prepared Building immersive worlds with Mixed Reality talk, which was mostly about WebVR, but now upgraded to the newest W3C specification. I went through the theory, showed some lessons learned, and demoed Quack Whack. It's always fun to shoot ducks, especially with sound.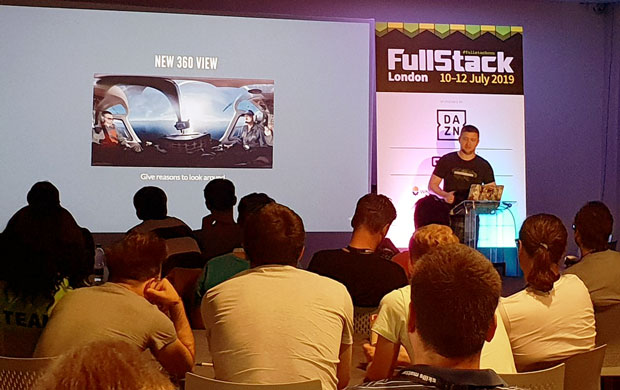 I think it went well, I've added a new demo to the end of it - launched Mozilla Hubs right from the stage and at some point had more than 20 people in the virtual room. It was super nice when Liv Erickson (now Social VR at Mozilla) approached me after the talk and we had a little chat.
It seems SkillsMatter have the fastest video crew on the planet, because the recording of my talk was up the next day. You can watch it online, but you need to register on their site first. It's free though, and you get access to all the other SkillsCasts available.
Update: you can also watch it right here as I've embedded the video above.
WebXR and IoT
Last talk I saw that day was another flavour of WebXR, but entirely different from what I had.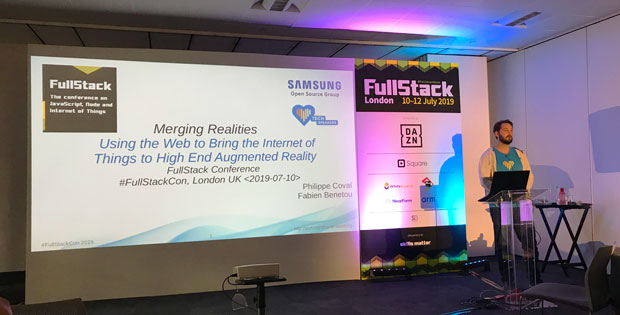 Fabien Benetou and Philippe Coval talked about merging realities: using the web to bring Internet of Things to high end Augmented Reality.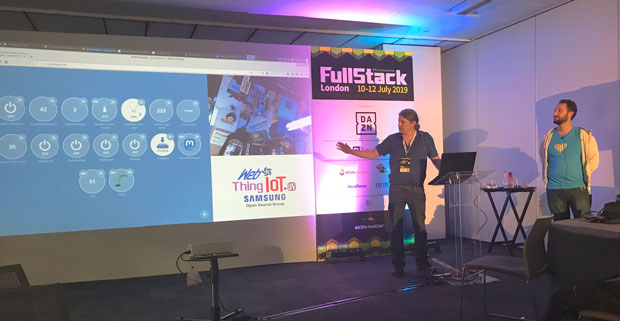 That perspective sounded really cool, and I can't wait to see a real use cases for it.
Magic Leap
After their talk I had the chance to try Magic Leap (the AR headset) for the first time. I have to admit it's impressive, but still feels like the Oculus Rift Development Kits a few years ago felt for VR - highly experimental.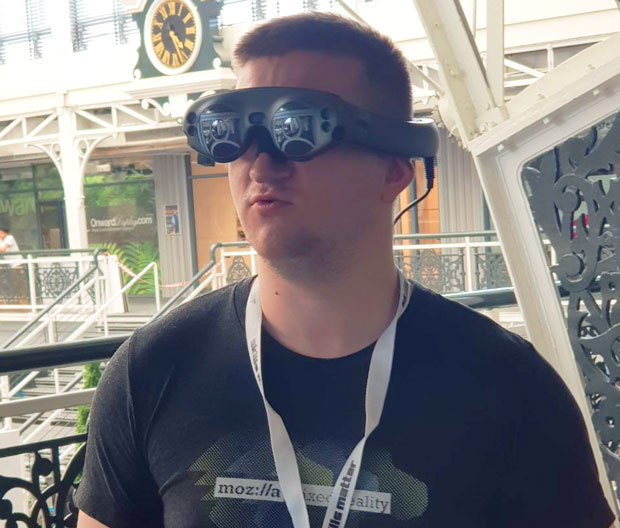 It's probably because I haven't tried much AR before (if you don't count cardboards and smartphones), but it quickly became tiresome.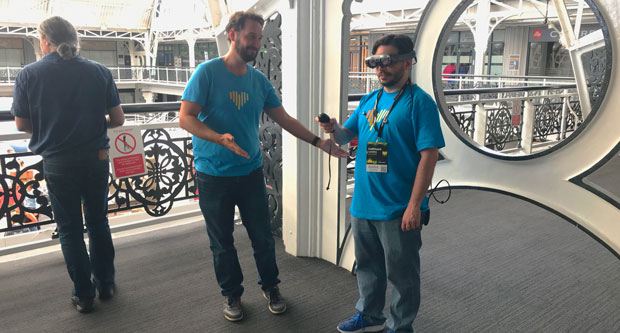 Still, playing Angry Birds in full 360 view felt awesome.
The Party
We went for the party right after the talks - we went there the best way you could in London: in a few red double decker buses. CodeNode welcomed us with pizza, beers, and mini golf (or rather micro, but it was fun to play nonetheless). Interestingly enough, Dylan Beattie had a talk about becoming a Rockstar Developer, and then after a break he returned to sing some kick-ass metal songs about programming.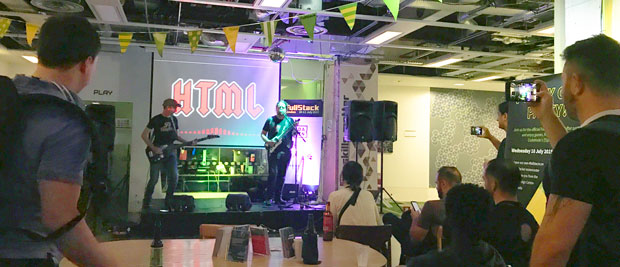 Weird stuff part one: drinking beer and eating ice cream may be a positive experience if both tastes mix well. Mine did.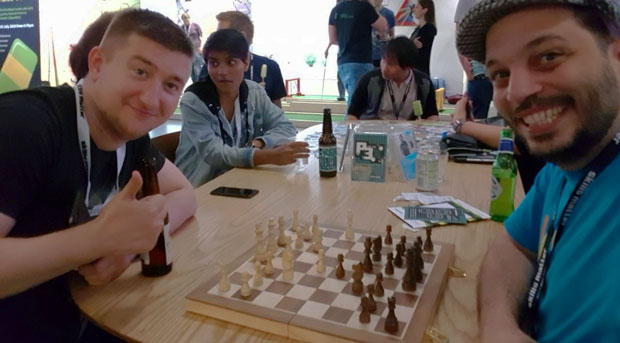 Weird stuff part two: when we were sitting at a table I noticed there's a chess board. I haven't played in years, but beat Andre three times in a row. Then Piotr Zientara (there was a small WarsawJS representation) appeared and I lost to him three times in a row. Chess happens. It felt cool to still remember some moves and just went with the flow, but bad that I totally forgot all the openings.
The fancy breakfast
The next day I had to return home already, but Andre went full into being the best tour guide in London and we managed to eat a solid first meal in The Breakfast Club, where I needed to take a picture of the food and post it on Instagram.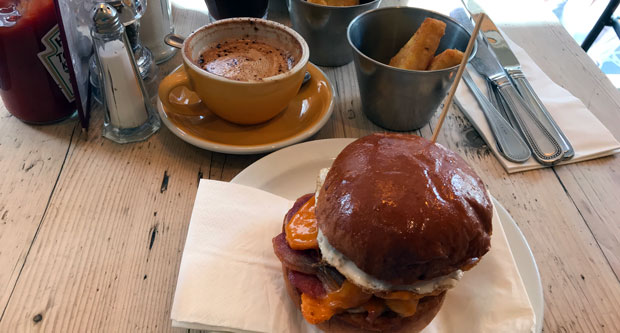 You can't just come to fancy places and don't show any proof of that in social media!
Summary
I really enjoyed my first FullStack - mostly because I was able to drag Andre with me most of the time.
Otherwise, as a classic case of an introvert, entering a place full of strangers would end up in me leaving the place a few minutes later, right after I'd finish my first and at the same time last drink. So, thanks my friend!