Another year, another edition of Warsaw IT Days. This time I've gone even further than usual and instead of just giving a talk (or two), I've organized a meetup, participated in a discussion panel and almost led a workshop.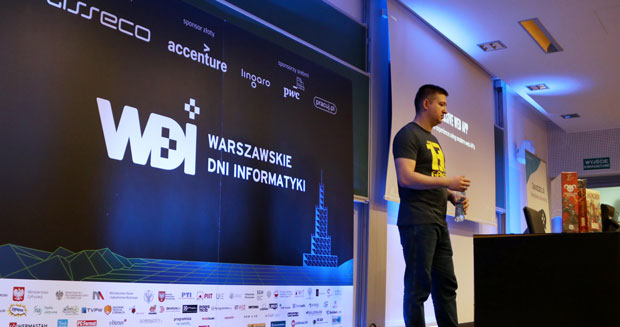 Warsaw IT Days 2019 happened last week, on March 26th-27th, at the Warsaw University of Technology. It was the tenth edition, and over the years I was talking about various topics: from Firefox OS with HTML5 games in 2014, how easy it is to create HTML5 games in 2015, Wizard Quest story and WebVR with A-Frame in 2017, and the js13kGames competition in 2018.
This year though we decided to organize a special edition of our Gamedev.js Warsaw meetup - funny thing is, it was also the tenth gathering of our small community. We were considering joining the Web Dev track by Meet.js, but ended up in the Gamedev one eventually.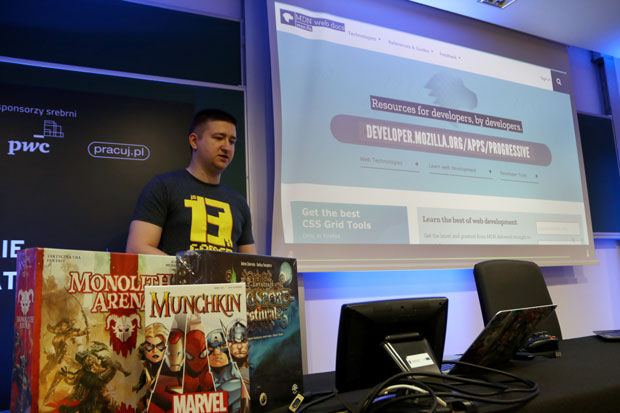 Our litte meetup had three talks: I talked about Progressive Web Apps and board games, tying together Enclave Games, js13kGames and Neuroshima Hex together.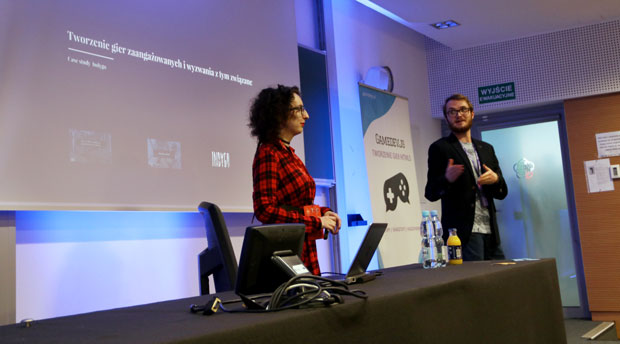 Aleksandra Jarosz talked about designing games that tackle problems like depression, using their game Indygo as a case study.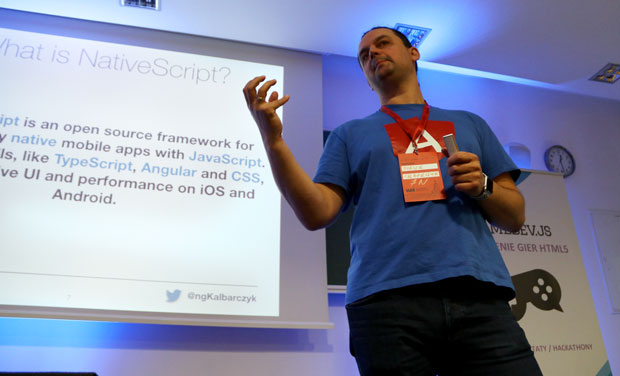 Dariusz Kalbarczyk explained how to build native iOS and Android apps and games with JavaScript, and what NativeScript is exactly.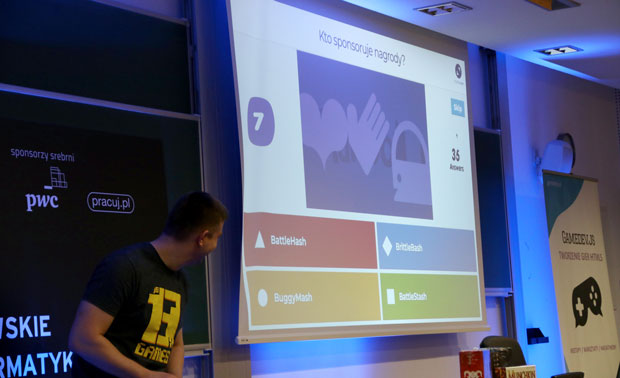 After my talk, we also organized a small quiz and gave away cool board games as prizes, thanks to our partner Battlesta.sh.
I wasn't sure what to expect in terms of attendance, especially since our meetup was the first thing in the morning, but I was pleasantly surprized with the full house (of 100 people) for the whole meetup. Every single seat was taken, and at some point a few people sneaked in past the guard who was making sure the room is not overcrowded.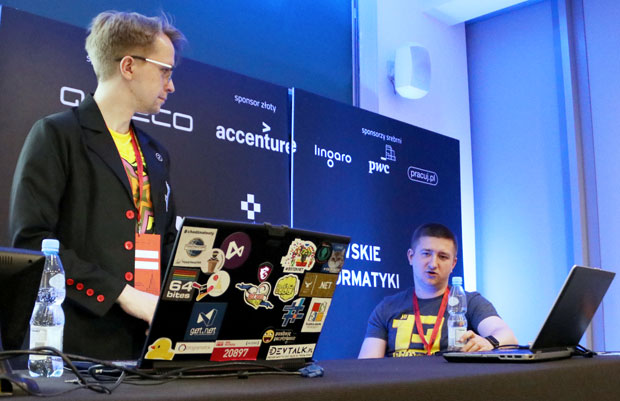 After lunch, I quickly went for the Career Stories panel with Cezary Walenciuk. I was expecting a proper panel with someone leading and asking questions, yet I ended up on the stage with "talk about how you started" whispered to my ear. Fortunately enough, after a few minutes of my spontaneous intro on how my career started, Cezary joined with his own presentation. I could peacefully sit down and focus on adding my two cents here and there to his talk.
Overall everything went great. I was happy we managed to have the meetup organized as part of the event. Unfortunately, the WebVR workshops I was going to lead a few days later (but still as part of Warsaw IT Days) didn't work out eventually, but we'll probably try to have something on our own anyway.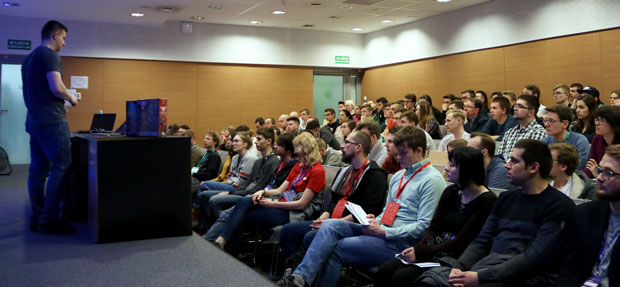 We haven't recorded the talks, and while I think it's the first meetup without the videos, I'm quite happy with how all the other things worked out. Grzesiek took the photos, we've managed to prepare our brand new rollup and even had a fancy poster - all the design work was done by Ewa, as usual.
I'm quite sure we'll try to do it all again next year.