More than a week ago I was speaking at the Game Industry Conference that was held during the Poznań Game Arena on October 5-8th 2017 in Poznań, Poland.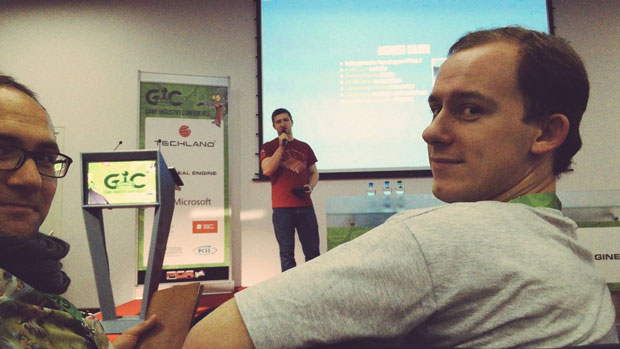 Venue
The whole set of related events was happening at the usual place - the Poznań International Fair. It's next to the main train station, with hotels and pubs nearby, so everything during those days was in the walking distance from each other. The Game Industry Conference was moved to pavilion 15, definitely bigger and better than the previous one.
Indie booths
The Indie booths also took more than before, and instead of a section of the single hall, they filled a full, huge one close to the main entrance. There was more than 200 independent games from Polish developers alone, which is impressive on it's own.
I didn't have much time to stay there for longer, but was able to visit some booths anyway: Dosowisko.net, Best Toilet Games, Robot Gentleman and MythicOwl to name a few.
Thursday
There was a few events happening during Thursday already, but I arrived in the evening and the first chance to meet with some gamedev friends (from BlackMoon Design, and all the others) was in the evening during the Robot Gentleman party.
Friday
Friday was the day when the talks started. I spent a few hours in the morning working on my slides, but was also able to go and visit the GIC venue, check the other pavilions, eat lunch and talk with some devs. There was a GIC party in the evening, but given my slides were still a mess I returned to the hotel after one beer to work on those more.
Saturday
More work on the slides until I felt they are completed, and then going through PGA pavilions, chilling at the GIC venue, chatting and listening to talks.
My talk
I started my presentation at 4:30 PM in the Unreal hall, and had about 20-30 people at the very beginning. The interesting thing was: when I was closing my talk, I had easily more than 100 people listening. They left the room when I finished, so it's not that they were waiting for the next talk.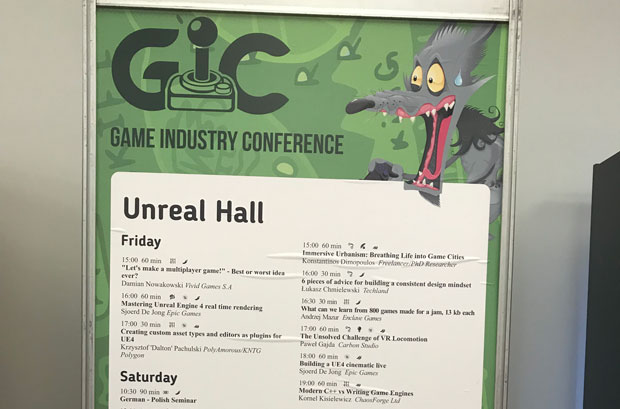 The talk itself was about the js13kGames competition, which is obviously for HTML5 game developers, but I was expecting no more than a couple of lonely JavaScript devs, so the talk ended up being technology-independent. I focused on the lessons learned from the compo participants - interestingly enough those were very similar to my Wizard Quest talks, so I got a confirmation that I'm not alone in my gamedev struggles. Those lessons can be applied to competitions, game jams, hackathons, or even gamedev projects in your day jobs.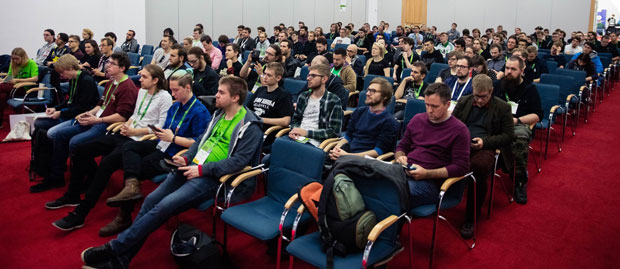 I was more stressed than usual lately as this was a new concept and set of slides, but I think it went ok. I went a few minutes over the time, so there was no time for questions, but I managed to show all the games I wanted at the end of the talk. I still talked with a few people after the talk, so it wasn't a problem.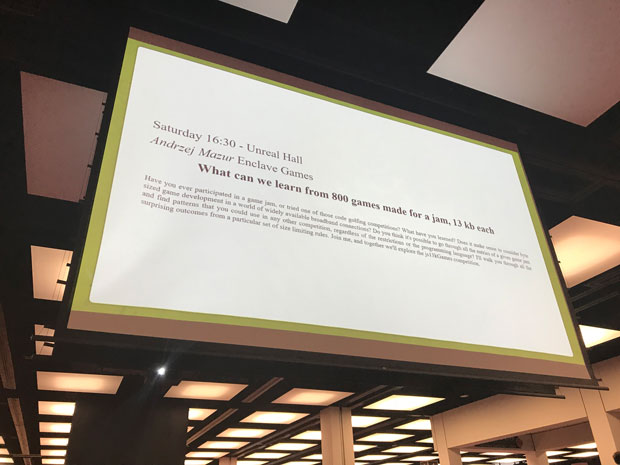 Personal thanks goes to Robert Podgórski who suggested such topic after my A-Frame talk was rejected (for the first time in GIC history). I got such negative responses from reviewers to the original CFP that, at some point, I wanted to write an angry blog post on "how NOT to give feedback on CFPs", but calmed down and submitted the js13kGames one, which was accepted almost immediately.
Twitch party
After the talk I returned to my hotel room, dropped my bag, and went for a party. After all I was done with my part, so I could finally relax. That evening was the Twitch party hosted for all the PGA booth crew, some celebrities, and GIC speakers. I was happy to chat and party with cool devs after a busy few days.
Sunday
Most of Sunday was spent on the slow preparations to get back to Warsaw. I visited a few people at the GIC venue, and talked with another few at the booths on my way back to the train station, then headed home.
Summary
Overall I'm very happy I was able to be part of this experience again. It's great to see the conference is growing every single year, and I can't wait to see how it will look like in the future.
The "big", "native" game development community is still relatively new to me as I was a front-end developer for so many years, but I think I'm getting used to it, feeling more comfortable and not a total stranger who don't know anyone at all.
Still, HTML5 game development feels like a total niche and may feel like absolutely not interesting at all to the big players, but I'm trying my best to change that.
Update: there's a cool transcript of my talk at GamesIndustry.biz Japan Edition - if you speak Japanese and are interested in the details you should definitely check it out.