I've teamed up with the BLUR folks to help them find HTML5 game developers eager to try the new messaging app that is also a platform to promote indie games.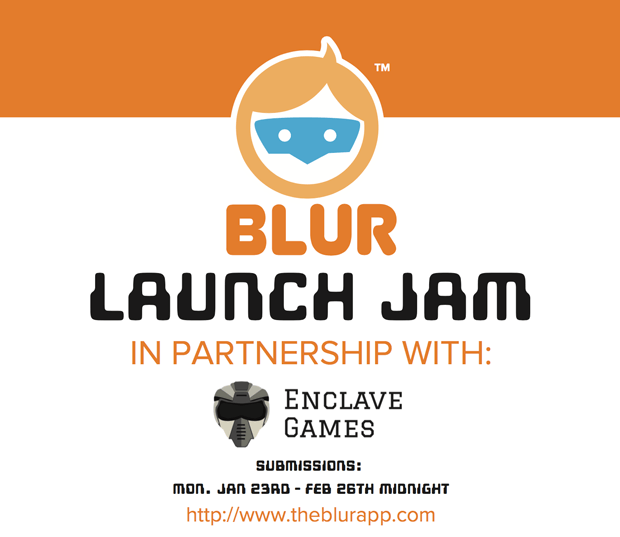 The launch jam is a way to get your games on the platform before the official launch in April. It started on January 23rd and will end on February 26th. The BLUR app is a platform where you can play HTML5 games instantly inside the chat window while talking with your friends and compete with them.
Those tiny games can be considered demos of the full blown games hosted by you, so you can build traffic and exposure. It's a way to promote the given entry, make the player curious and take him directly to your own page. A messaging powered up by HTML5 games and focused on promoting indie devs like you and me.
Judges
Your entries will be judged by the experts: Jimmy Joe McGurl (globally ranked gamer, Smash Bros, and professional game commentator), Will Eastcott (CEO and co-founder of PlayCanvas), Emanuele Feronato (HTML5 game developer and Phaser expert), and also yours truly - me.
Prizes
Grand prize for the winner is 1000 USD cash. There are also a follow-up prizes: three 6 month PlayCanvas personal plans and two sets of ebooks: From null to first HTML5 cross platform game and Create HTML5 vertical endless runner cross platform games. The top 25 games will be featured on their app at launch too.
Requirements
To enter, you have to submit a responsive HTML5 game that work offline - multiple submissions are welcome. The integration part is as easy as adding three lines of code. You provide game package with all the assets, including promotional images, but don't worry - you keep all the rights to your game. Even more, you get a free promotion and exposure of the game to the millions of potential players.
Integration
It's as easy as adding three lines of code to your own game, and that's it! You can hardly call it an SDK as all you have to do is to add a JavaScript file, and tell the system when the win and lose states are executed.
Go for it
You should try it out as the opportunity sounds really interesting - I've already added my game Shape Attack and can't wait to see how it will all work when the app launches. Check out their website for more details and join in!